to host a
Go! Baby
giveaway!!!
You might remember that I was fortunate to be able to try out this nifty tool, and tell you about it
in this post
. Now you have a chance to win one of these fabric cutters, 3 dies of your choice and the cutting boards to go with them. Please leave a comment on this post before september 14th and tell me what die and pattern you would like to give a go. It will be shipped to you for free by the lovely team from AqquQuilt, worldwide. So you are ALL invited to play along.
The picture above shows the Go! Baby tumbler die paired up with my 30's stash of mostly green, blue, purple, yellow and blacks.
Last night I washed this summers fabric finds to complement my tumbler wip. After putting these through the Go! Baby they are ready to be mixed in on the design wall. There's also quite a few charm squares already cut and waiting to join the party...
I look forward to mix in more of these blacks and greens...
So, what do you think? Would you like a chance to play? The dies comes in
many shapes
: including tumblers, half square triangles, hourglass dies, squares and more. Here's a link to free patterns to give you more ideas: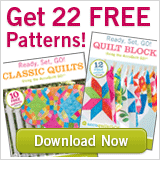 I'll draw a lucky winner on sept 14th! Please make sure I'll be able to e-mail you and get your address and choice of 3 dies. If not, I'll have to make a second drawing.
Best of luck!